Gosport and Fareham Kickboxing Classes
Melt Calories. Get Fit. Have FUN! That's What Our Classes Are All About!
For fun, fitness and self-defence, Rogers Jiujitsu Academy invites you to try the ultimate fat burning workout! Our Kickboxign class is a high-energy, exciting, explosive fitness and conditioning workout that teaches effective and practical kickboxing techniques.
FOR EYE-POPPING RESULTS, NO OTHER CARDIO PROGRAM COMES CLOSE!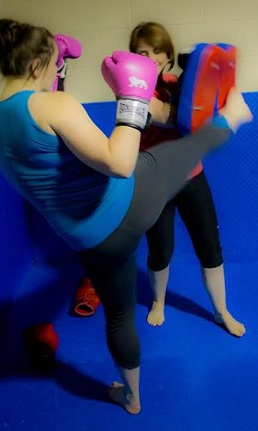 When you take the Kickboxing classes at Rogers Academy, we guarantee you'll be thrilled with the results you'll get from our Kickboxing classes. Your only regret will be that you didn't discover us sooner!
Here are just some of the enormous benefits you will enjoy with the Gosport & Fareham's Kickboxing program:
Overwhelmingly Increased Fitness Levels
Kickboxing involves the whole body; heart, lungs and muscles—your body gets a complete workout saving you time and makes your fitter quicker.
Wickedly Effective Self-Defence
Kickboxing is an uncomplicated martial art; this means you don't have to train for years to put effective kickboxing self-defence to work.
The constant moving and intense Kickboxing techniques burns calories fast; typically around 1000 Kcals a session. Even if you eat as normal you will lose weight by coming to class regularly.
How many of your friends and family can say they're a kickboxer?
Increased Self Confidence
The combination of learning new skills, techniques to protect yourself and your loved ones, meeting new people and being positively motivated all increases your confidence!
Enhanced Sense of Well Being and Security
The huge boost you'll get in confidence combined with a real sense of worth will make you a better person at home, at work with your family and in all your relationships.
We use as many different types of proven stretching methods available so you become more flexible quicker, safer and more enjoyably than normal.
Our unique Kickboxing classes teach you real kickboxing and concentrate on improving your fitness; this results in you actually looking and feeling healthier
Each Rogers Academy class is highly structured; including scientifically sound warm-ups, highly motivating and progressive main sessions and essential cool-downs—all making your class a brilliant place to learn and for you to see real progress.
Nothing beats punching or kicking your day-to-day frustrations out on a punch bag or kick shield! even just time out of the house or your own time is hugely beneficial to your life.
Safe Yet Effective Training Practises
Safe exercises, safe use of equipment, safe training practises—we want you to have the best possible experience and your safety is put first.
Experience CRB Checked Instructors
All our instructors are full Black Belts, enhanced CRB checked for working with children, have first aid qualifications, have insurance, use only quality equipment—but most importantly they are experienced. All have several years of kickboxing knowledge, have undergone strict training guidelines and are very professional in their approach.
YOUR DREAM BODY REVEALED!
Don't wait! Fill out the short form on the side of this page to request more information on this incredible fat-burning, self-defence workout from Rogers Academy today!